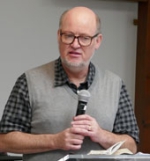 Servants of the Lord Ministries Day Conference
+++ With translation into German +++
At SOLM, we are always looking at the foundations in our lives. Do not deceive yourselves, those with stronger foundations have gone through deep repentance. No one can just pray and lay hands on you and give you a strong foundation. Come along and find out how to go deeper and get revelation from your head to your heart.
Date: Saturday 3rd June 2023
Topic: Deepening Your Foundations
Minister: Dr. Keith Jenkins
Time: 09:00 - 15:00 (BST) / 10:00 – 16:00 (MEST)
Venue: Stapleford Methodist Church,
40 Eatons Rd, Stapleford, Nottingham NG9 7EA
Cost: The conference is free of charge. If you feel led to support the speaker, there will be an opportunity to do so on-site as well as online. For more information, please visit https://www.solm.org/index.php/en/about/support-the-ministry
Requirements: The Conference is for those who are already reading and studying the books of Joseph C. Hedgecock.
ALL those attending, either in person or on-line, should register beforehand. If you have any questions, or to register, please contact Dave Kennard, Email: This email address is being protected from spambots. You need JavaScript enabled to view it.

To attend the conference online, you will need to download the app or software for ZOOM. Then please log in on the day and at the time of the meeting and enter: Meeting ID: 3657130574, Password: 123456. Please be sure to mute your microphone if it is not automatically muted, in order to allow the best audio transmission quality for all online participants.
If attending on-site, please test for covid if you can. If you test positive or if you have symptoms, you should not attend in person. Fortunately, you can listen to the messages online if this is the case. The conference will be recorded as well.
The first session will start at 9am BST. Tea and coffee will be provided. Please bring your own lunch or buy your lunch in one of the many eating places within a 5 minutes' walk of the church. The teaching will be in English and translated into German as well. Those attending in person will be asked to follow best practice in terms of social distancing.
Session 1: 09:00 - 10:30
Comfort break: 10:30– 11:00
Session 2: 11:00– 12:30
Lunch break: 12.30 - 13:30
Session 3: 13:30 - 15:00
Yours in Christ,
Dr. Keith Jenkins
President and International Coordinator